Old Havana Casino is proud to offer players an exciting variety of popular poker games. Poker games like Jacks or Better, Bonus Poker, Loose Deuces, Joker Poker and more are in the casino lobby. Play for free or for money and win huge prizes playing poker online.
How to Play Poker Online
It's never been easier to start enjoying poker from the comfort of home. Old Havana Casino gives players the ability to quickly sign into their account and start enjoying poker within moments. All of the games are fully interactive, secure and user-friendly. Players just deposit money into their accounts and can begin playing instantly. Make sure to take advantage of the excellent welcome bonuses and player rewards for existing players.
The primary objective of poker is to win money! Winning money (or the pot) in poker happens by making bets based on the hand of cards that are dealt. Players make bets hoping they have a better hand than the other players. Additional cards are added to the table, and the player with the most valuable hand will win.

Common Hands in Poker
Below is a chart explaining the common hands in poker. A Royal Flush is the best hand possible in this card game. Having a solid understanding of these hands can help players make better crunch time decisions.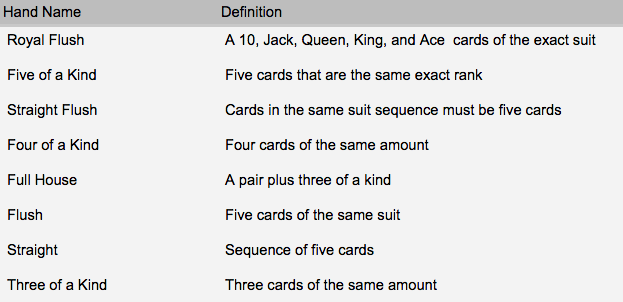 Poker Strategy
All casino games are games of luck. However, learning a basic strategy can increase the odds of winning for a player. Every decision a player makes at the tables can dictate the outcome of their bet. Experienced players will say it is key to understand the rules of the game before betting real money. Play conservatively when the hand is undesirable. When a great hand is dealt, don't be afraid to be aggressive and raise bets. Finally, mentally prepare yourself to lose. Having a positive attitude helps when the chips may not fall in a player's favor.
History of Poker
The origins of poker trace back to over 1,000 years ago. Historians have not yet been able to pinpoint exactly when the game was first created. The unknown exact invention date is due to the game being popular in many regions around the world. Many think poker first originated from a 10th-century domino game. Poker gained popularity in other cultures in the 1800s and has remained one of the most beloved casino card games ever since.
Poker Glossary
Ante: An amount of money a player must bet before playing a hand of poker. The ante adds money to the pot.
All-In: When a player places all of their chips into a pot to play.
Buy-In: A buy-in is the amount of money/chips it costs to play a game of poker.
Call: Every player must call in poker. The call advances the game and adds additional chips to the pot for a hand.
Draw: When a player desires to draw more cards in hopes of it becoming a better hand to play.
Fold: To fold is to give up on a bad hand. Players will lose any bets placed and is no longer part of the game. Usually, a fold happens when a player has a less than valuable hand and no longer wants to compete against the dealer.
Hand: All of the cards used in playing a game of poker. The cards which equal the players and community cards.
River: The final cards in the players and dealers hand.
| | | |
| --- | --- | --- |
| | | |
| Tri Card Poker. | Three Card Rummy | Pal Gow Poker |
| | | |
| Let Em Ride | Caribbean Stud Poker | Caribbean Holdem |